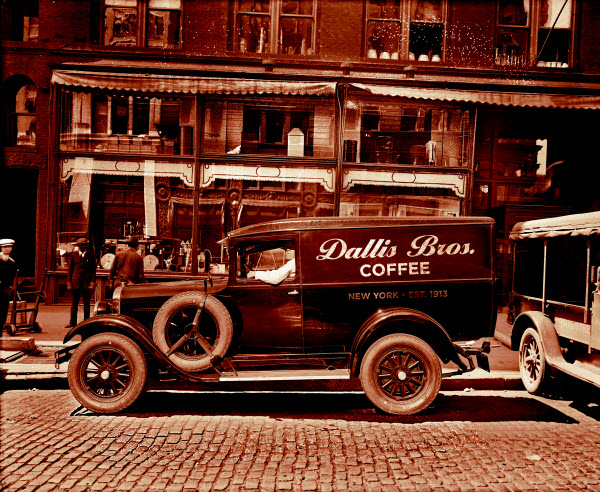 3 Reasons Small Distributors are Necessary for Your Business
No small business is an island. Every business depends on the goods and services of other businesses. Distributors specifically can be valuable small business partners if you utilize their full potential. You'll remember our two friends from our previous article "Five Buck Chuck" and "No Slip Chip." They each have different perspectives on their cafe's role in the business ecosystem, specifically when relating to wholesale distributors.
Chuck, as you may recall, spends several hours each week running to and from a large wholesale supplier. He receives a couple of small deliveries for milk products and baked goods each week, otherwise he retrieves supplies himself on his own time. He wants to save as much money as possible so he rarely researches new products that could be used or sold in his cafe. For this reason, his menu rarely changes and many of his products have become outdated.
Chip, on the other hand, has a healthy relationship with his various vendors. He uses a couple different companies but has one that delivers most of his supplies once a week. He rarely has to worry about adjusting his orders, and when he does, he is ordering more of a product that is selling better than he expected. Unless the cafe is overwhelmingly busy, he gladly talks with his vendors when they call or visit and thoughtfully considers the products they present.
Here is why Chip places value on his relationship with small distributors.
1. His distributors have unique working relationships with big manufacturing companies.
It is in their interest to provide you with the best, most current, most market relevant products. Their sales reps are much more than mere "salespeople." They represent the distributor and are interested in presenting ideas that help you sell more drinks = success for you = distributor success. They are also well aware of this question: What do they stand to gain by convincing you to sell something that your customers won't be interested in? To be effective, wholesale delivery companies need to carry products that are on the cutting edge of market interest. They have several clients in your line of business and achieve broader perspective into your market by seeing demand from several angles. They can provide you with marketing and educational material for new products upon request. Take our client illy for example. They are the elite coffee roasters of Europe and have two agronomists on their staff. By working with us, cafes gain access to the think tank that is illy caffe. Niche wholesalers can be the research and development department you didn't know you had.
2. They are better long-term partners than the big distributors.
One primary function of wholesale distribution companies is to keep the products you need in stock – they are an extension of your storage in the back room – and small companies can't afford to let you down. According to the Small Business Association of America, there are currently 300,000 companies in the U.S. wholesale distribution industry, with the 50 largest distributors generating 25% of the industry revenue. The big suppliers will do anything to fight for your business (adding whatever products you need to their warehouse) but will do very little to maintain it. If they aren't getting the turn they require, they will cut specialty products you need and try to get you to compromise. On the other hand, there are small distributors who specialize in your type of business are not inconvenienced by stocking the specialty chai that your shop is famous for. The best wholesale delivery companies will bend over backwards to get you your products when you're in a pinch because they can't afford to lose your business. Because there are big wholesalers like Sysco and US Foods who are capable of "delivering the grocery store," the small distributor will focus on your gaining and retaining your business through a commitment to earning your business; being that much more dependent on your success makes them valuable partners. They are almost as affected by your success and failure as you are.
3. Small wholesale delivery companies have to win his business.
Take our company for instance. We distribute specialty beverage related products, service and equipment to a variety of cafes, restaurants, and corporate offices. There are several other companies in our area that provide similar, if not identical, products. Unwilling to give in to the unhealthy practice of aggressive competitive price-slashing, we decided to incorporate an additional available service. Unlike several other distributors, we provide full service and maintenance on all of the equipment we place in the market. Anyone who has worked in coffee or tea knows how finicky and technical the machinery can be and how few people are willing to work on it. The offered service dimension is how we stand above the competition. Other distributors in other areas of business offer services like training and educational programs to make themselves valuable to their partners. Large wholesale delivery companies probably don't have an individual, let alone a department, that has technical knowledge of your particular business and market. Small distributors can't afford not to.
Chip understands that a wholesale beverage relationship stands to be incredibly beneficial for his small cafe. What has your experience been with small distributors? Let us know in the comments sections below.
[polldaddy poll=8163843]