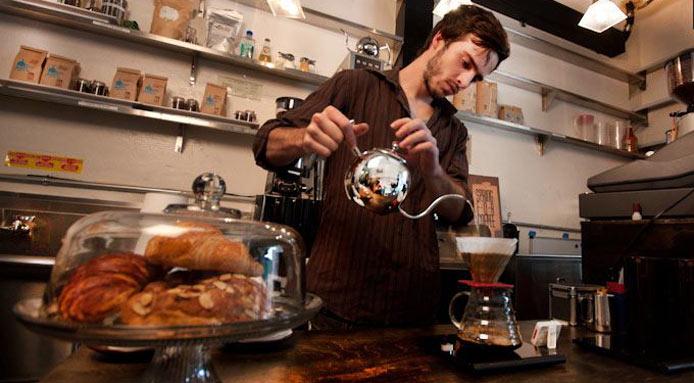 Will the "Third Wave" Coffee Shop Last? Part 1: The Good
If you have encountered a young person—usually with a handlebar mustache, a cardigan, a smattering of tattoos, and a knack for thrift shopping—who has proceeded to tell you about a new coffee shop in an artsy part of the city you live in, he or she was probably referencing what is now known as a "third wave" coffee shop. You've probably heard of cafés like it before; they usually serve fair trade coffee, offer gluten-free pastries, and are more expensive than your run-of-the-mill coffee spot. In the worst case scenario, the young person you encountered might have scoffed at your frequent Starbucks runs and your cup of Folgers every morning. In the best case, they encouraged you to visit their favorite café because they enjoy the environment, the coffee, and the values the business boasts. The patrons of these budding establishments are often referred to as "hipsters," but the interesting fact is that they aren't just a fringe demographic; their values correspond with the values of millennial consumers as a whole. Those born between 1980 and 2000—the peak ages for specialty coffee drinkers—show marked concern for the environment, healthy growth of the economy, and gravitate towards companies committed to good citizenship. These are the frequenters of the third wave coffee shop.
So all of us longstanding coffee industry participants need to ask ourselves, is the third wave here to stay? In what ways is the tide changing? Let's take a look at what good has come from this movement to see if this style of café will long endure.
The Bean is King
While imbibers of coffee have long enjoyed it black, most never realized the diversity in coffee. Rather than the normal options of "Dark," "Medium," and "Light" roasted, people are now offered varietals: beans from all over the world that have been roasted with particular care. Roasters have long been selective of where they purchase their wholesale beans from, but the third wave has brought microscopic attention to detail.  Extensive tasting and experimentation bring out various flavors within different beans. For the third wavers, no two coffees are exactly alike, and neither are two brewing methods.
Promotion of Fair Wages in Coffee Growing Countries
One of the concerns of this style of café is a commitment to just wages for all those who were involved in producing the beverage: the grower, the roaster, and the barista. In the past, most green coffee beans come from coastal wholesale distributers, and they were the middlemen between the roaster and the grower. This is still largely the case, but several shops are taking it upon themselves to develop relationships with specific farms to ensure that the farmers they are working with are paid a fair wage for their effort.
Because these shops focus on the bean and the inherent flavor profiles of different coffees, they want to remove as many obstacles as possible from your experience with the coffee. For this reason, their menus are surprisingly limited. You won't find manifold syrups or blended options there. Some shops have as few as five options with only one size available for each. While not a positive trait at first glance, what this allows is a high level of quality control. Many of these shops have rigorous training programs for their baristas, but even then, they want their baristas to make sure the few drinks offered on their menu are made perfectly, with time and close attention.
Local over global
Part of the appeal of the third wave shop is their appreciation for locally made, quality goods. As a small local business committed to business with other small local businesses, they tighten the network between local bakeries, beverage companies, and artists. For those of us who like to be tied to our immediate community, it is nice to have unique place to meet with visiting friends to give them a taste of the local flavor. They strive for a symbiotic relationship with other small businesses that are like minded and want other small businesses to succeed as well.
So, the third wave shop has brought some significant changes to the coffee culture at present. Will these changes endure? Only time will tell. Are these developments new or positive? Stay tuned for our next post "The Questionable" to see what is holding these cafes back.