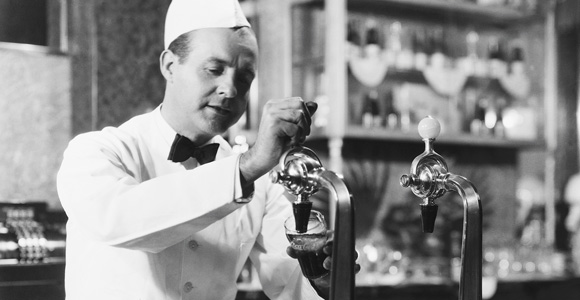 Are You a Soda Jerk? The Do's and Don'ts of Italian Sodas
What does it take to be a "Soda Jerk?" Well in case you didn't know, "soda jerk" was a common professional title for a soft drink maker a couple of decades ago (the kind of person you would find behind the counter at a Mom n' Pop drugstore). Even though the term has since fizzled out, soft drinks are as popular as ever and are developing in new directions every year. If we have learned anything from the Coca Cola Freestyle, it's that people want carbonated drinks with infinite variety; because we all missed Coke with Lime so much.
Well, step aside Coca Cola, there is a new (not really) carbonated drink in town that has more options than a two liter Coke has calories. It's the Italian soda which is easy for cafes and home mixologists alike. If you don't believe us, spend a few minutes scrolling through Monin's catalog (which doesn't even include their sugar-free options). Hopefully it won't provoke an existential crisis.
But don't worry, with Italian Sodas there is very little to lose. Unopened syrups have a shelf life of 3 years. They don't "expire" for 6 months after being opened. From a cost standpoint, a bottle of syrup usually runs around $6 and can comfortably yield 17 drinks. Unless your buying Perrier, the carbonated water shouldn't set you back much either. All things considered, Italian Sodas are about the easiest drinks to add to a summer menu.
Discerning moms really love these options. When they are grabbing their small iced mocha, they can order something for their kids as well, without having to worry about caffeine.  Coca Cola boasts 55 grams of sugar per 16oz whereas the average Italian soda averages 38 grams. If that number seems a little high, don't forget about  the plethora of sugar free options available as well.
Before I get too entranced by the sound of my own voice, here's the skinny on Italian Sodas:
16oz Italian Soda Recipe:
3/4 cup full of ice
1 1/2oz Monin Syrup (3 pumps)
8oz ice cold carbonated water
Optional: 1/2tb of half and half
Add ingredients in listed order and mix thoroughly.
The Do's
-Follow the almighty recipe.
-Use high quality syrups with pure cane sugar and natural flavoring. Because you're worth it 🙂
-If you don't have a fountain system, buy cans of carbonated water not big bottles. Once a container is opened, the carbon dioxide escapes faster than my attention when I… what were we talking about?
-If being served at home or in a dine-in setting, serve in a chilled glass when possible.
-Mix flavors to create your own concoction. (Not all of the flavors, Italian Soda suicides are nasty)
The Don'ts 
–Under no circumstances should you pour room temperature carbonated water over ice. 50% of the carbonation will dissipate before you can say "Arrivederci!"
-Avoid club soda and tonic water. They have distinct tastes. Learn about the many types of carbonated water here.
-Never add cream to an acidic flavor (lemon, cherry, orange). It will curdle. It will coagulate. And kids will freak out.
Well, we hope you are now committed to the Italian Soda lifestyle and we look forward to your comments. Fill out the polls to let us know what kind of articles you would like to see in the future. Don't hesitate to contact us with any questions!
[polldaddy poll=8114286] [polldaddy poll=8163843]