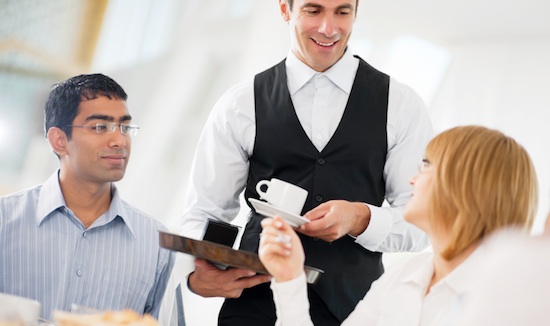 Can Espresso Succeed in a Full Service Restaurant?
Time and time again, we have witnessed several up-and-coming restaurants zealously incorporate specialty coffee drinks into their already ambitious array of menu items only to post their semi-functional espresso machine on craigslist a couple months down the line. Failures such as these discourage many restaurant owners and managers from dreaming about ever offering espresso. The absence of lattes and cappuccinos in the majority of sit down restaurants begs the question: Can espresso succeed in a full service restaurant?
The short answer is yes, but at a cost. As with hobbies, relationships, and your recent Netflix addiction, the key to successfully incorporating espresso into a full service restaurant is commitment. This isn't just any type of commitment, but commitment to a concept. The espresso concept for restaurants hinges on the fact that a dining experience is not limited to the food, but everything that contributes to the enjoyment of the meal. A realistic and successful espresso program involves a long term vision that incorporates the appropriate budget for suitable equipment, realistic delegation of espresso bar responsibilities, and deliberate marketing and awareness strategies.
The first decision that must be made is: how heavily are you going to invest in the concept? Espresso machines vary in price dramatically, and the old adage, "you get what you pay for" holds water across the board. It is worth your time to consult a professional when deciding which system you want to commit to. Espresso preparation is not overly complex when you break it down into a few simple steps.  But there are several espresso brewing alternatives to the traditional fully manual method. These can control several variables for you (ESE Espresso Pods and illy's iper capsules specifically) that will impact quality in the cup. Nonetheless, these options are those who value consistency and speed, and are willing to spend a little extra on upgraded equipment and prepackaged grounds. These systems can be tremendously in managing inventory. However, even these options are not for the flighty or feint of heart. These methods still require routine maintenance and careful management.
Once you have carefully decided on a program that fits your restaurant and budget, you will need to deliberately allocate espresso responsibilities. This is where we see restaurants fall short and create long term problems for themselves. Unless you delegate drink preparation to a specific individual and train them properly, no one will step up and deliver the quality of drink that you want to serve on a consistent basis. The White Chocolate Grill, for example, assigns all espresso drink preparation to the bartender. This focuses particular training to someone who is already committed to beverage quality, and ensures execution behind the bar. Many restaurants divvy up the responsibilities and neglect the necessary barista education which inevitably leads to a rapid depreciation in quality over the course of time. Similarly, you will need to assign disciplined machine maintenance to a specific employee to prevent long term damage to your machine. Otherwise, repairs  will end up taking money out of your wallet and sales from your business at inconvenient times.
There are effective and easy ways to promote espresso sales in the restaurant. Espresso offerings naturally reinforce your strengths as a restaurant when artfully prepared. Nothing ruins a wonderful meal like a lousy cup of coffee. On the other hand, what pairs better with dessert than a shot of premium aromatic espresso, or perhaps a rich, perfectly prepared cappuccino? Combining coffee offerings with already existent sweet options makes both items more appealing. If you are trying to set your restaurant apart as a place of culinary superiority, what better way than to advertise your commitment to a coffee program that is a cut above the rest? You can promote iced lattes in the summer in and cappuccinos in the winter to give your restaurant a seasonal edge. Be sure to feature espresso drinks every way you can.
Even though incorporating an espresso program may seem like a daunting task, you can be confident in the fact that coffee does not discriminate. For decades, if not centuries, coffee has been integrated into establishments that span culinary genres; you'll be hard pressed to find a restaurant that doesn't offer coffee in some capacity. These days, you are just as likely to find coffee featured in your local Thai restaurant as in a gritty all-American diner.  In the US, the demand has remained constant for drip coffee and luckily for most restaurants, it is a simple addition to any menu. Espresso, on the other hand, requires equipment and employees who are comfortable handling that equipment which has discouraged many restaurants from taking the plunge. This is one of the reasons why people are willing to drop an obscene amount of cash at …cough cough… Fivebucks after lunch or dinner at a full service restaurant. Italian restaurants are compelled to offer espresso simply for credibility's sake, but as the demand for specialty coffee drinks has grown, other trade styles have similarly risen to the challenge. Now is the time for restaurants to adopt quality espresso programs in order to be ahead of the curve.
Consumers and business owners know that espresso isn't a walk in the park. For this reason, most full service restaurants are hesitant to take the risk and invest in an espresso program. The examples of success have maintained steadfast commitment to the concept  and actively promote their fine coffee offerings. This distinguishes them as gourmet establishments that provide a holistic dining experience where the meal does not end with the food. They know that food and beverages are meant to be "eaten" first with the eyes, then with the mind, then with the nose, and finally with the mouth.
For information about espresso programs, please email us at info@silverservice.com
[polldaddy poll=8114286]